Here's this week's edition of the news wrap! Don't forget that the 'SoShi Wrap' is a new section to help you get updated with even the smallest of news about our favorite girls. This is the first one for your reference!
Videos
1. Girls' Generation Interview on Japan's Sunday Countdown Show

Girls' Generation was featured in a Japanese show where they talked about their upcoming "Japan 1st Album" and played a quick game in which they had to come up with a sentence using the given word. The interviewer also did a short dance from "MR. TAXI", and the girls were able to communicate comfortably with her. Take a look at the stack of boxes beside Sooyoung! It's the box that will come together with your album if you get the Deluxe Edition of their 1st Japanese album.
2. Yoon Do Hyun Band (YB) Sings "Run Devil Run"

It was mentioned before that YB performed Girls' Generation's "Run Devil Run" at a university performance. The band performed the hit number again on MBC's "I Am a Singer", giving off a powerful vibe and infecting the audience with their amazing energy.
Others
1. Behind-the-Scenes Pictures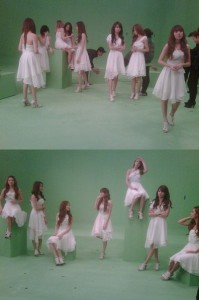 Though in low quality, many are speculating that these pictures are for the upcoming Japan Tour. Their dresses look similar to the ones they wore for their Japanese 1st album cover. The other pictures also show the girls dressed in more elaborate outfits complete with accessories like gloves and head pieces. You can check them out here.
2. Japanese Licensed Albums in Korea Doing Well, "Gee" Japan Certified Double Platinum
Even without actual promotions, Girls' Generation is still the talk of the town in their home country. Their Japanese licensed albums like "Genie", "Gee" and "Mr. Taxi/Run Devil Run" were released in South Korea and received plenty of positive responses from fans. More than 10,000 albums have been sold based on Hanteo's chart alone. "MR. TAXI" is a popular song as well, the girls recently attended a festival at Hanyang University, and encouraged the crowd to sing a line of the song with them.
Furthermore, even though Girls' Generation's "Gee" Japan was promoted last year, the song is still receiving love from fans, and was certified Double Platinum by the Recording Industry Association of Japan (RIAJ) for both the Chaku-Uta Full and Chaku-Uta Short.
4. Girls' Generation Music Station Appearance Earns High Ratings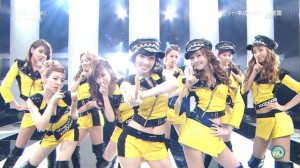 After delivering an unforgettable performance for their 1st Japanese original track, "MR. TAXI", it was later announced that Music Station's ratings for that broadcast (May 13th) was 12.5%, the 2nd highest rating so far for the year 2011.
5. Jessica's OST "Because Tears Are Overflowing" on the Charts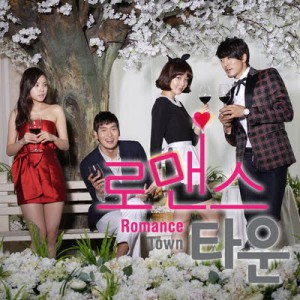 Jessica sang her first solo OST for KBS's "Romance Town" and it did fairly well on the charts, peaking at number 1 on Naver, and attaining the 2nd and 3rd spots on Daum and Bugs respectively. The drama is still in its early stages, so hopefully we can hear Jessica's singing voice in the drama soon.
New Sets of Pictures
Japan 1st Album Pictures
Vita500 with Girls' Generation
Jessica in W Magazine
SPAO Pictures in HQ
SONE Picture of the Week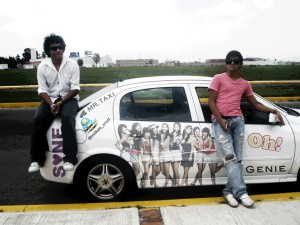 We are now also integrating a new category that will be placed at the end of every 'SoShi Wrap'. Anyone can participate as long as you're a fan and you're up for some creativity. Send us a picture (to tip@soshified.com) of what you think is the best SONE photograph, and we might just use it to feature in this category. All pictures must be submitted within the week so if you sent us a picture last week, it doesn't count! Time to use your thinking caps and bring your best camera out for a walk. Good luck, and have fun!
For this week, we decided to use the above picture as an example. It's Miikee_Snsd from Mexico, showing off a car with a Girls' Generation theme. It's so much easier to spread the Global Generation love that way!
Sources: Soshified Photos Section, Miikee_Snsd@twitter, yoongislove@twitter, MrBlur91@youtube
Written by: shizzles9@soshified.com
Banner: cioco@soshified.com
Have a news item that you think Soshified should know about? E-mail us at tip@soshified.com.
Follow us on Twitter: http://twitter.com/soshified for the latest on Girls' Generation.