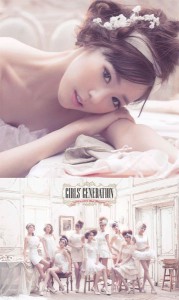 Girls' Generation's Tiffany is becoming a hot topic among netizens for her "Japan 1st Album" pictures.
On May 16th, SM Entertainment Japan officially released details on their 1st Japanese album that will be released June 1st. Pictures of their album covers as well as individual shots were released beforehand, drawing attention from fans. Dressed in white outfits and with soft makeup, their looks emphasized on their femininity and gentle sides.
Many fans are excited about Tiffany's new look which showcases a different side of her. Her maturity radiating from the picture as compared to her more active and cheerful image is being well-received by both fans and the public alike. Instead of a cute appearance, her softer aura is appealing to many as well.
Netizens left comments like, "Tiffany is becoming more and more mature", "She looks similar to Jessica" and "She's a goddess."
Which member do you think looks most different?
Sources: kyeongin
Written by: shizzles9@soshified.com
Have a news item that you think Soshified should know about? E-mail us at tip@soshified.com.
Follow us on Twitter: http://twitter.com/soshified for the latest on Girls' Generation.