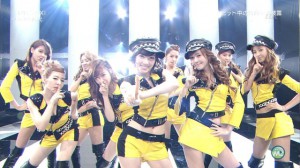 After announcing that they would perform their Japanese song 'MR. TAXI' for the first time on TV Asahi's Music Station, the girls have been working hard to perfect their choreography and vocals. Their efforts paid off as the girls showed off their trademark synchronization and bursting energy.
Check out the video of the performance broadcast today:

You can download a HD version of all the videos (including the interviews) here.
The girls also had a number of short interviews with the MCs. Popular Japanese group 'Perfume' expressed their interest in Girls' Generation, and the girls spent some time teaching the 'taxi handle' dance to those present in the studio. Even though the girls looked a little nervous about performing their hit single for the first time, they showcased a perfect performance and shone in their yellow outfits.
Leave comments and let us know what you think of their first live performance of 'MR. TAXI'!
Sources: hiros2008@twitter, ThanksEatHotKimchi@youtube
Written by: shizzles9@soshified.com
Have a news item that you think Soshified should know about? E-mail us at tip@soshified.com.
Follow us on Twitter: http://twitter.com/soshified for the latest on Girls' Generation.