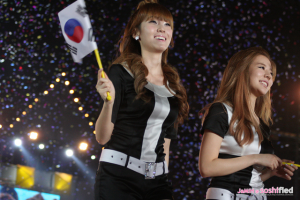 Hello, SONEs! It's that time of year again – and we're not talking about springtime. Born on April 18th, 1989, is none other than our beloved Jessica Jung. We love her because it is sometimes difficult to understand her personality. She has an unmistakable air of nobility around her constantly. Sometimes she is cold and distant; other times she is warm and affectionate. Regardless, she has an odd mix of expressions that can be only described as typical Jessica.
Around the time of her debut, she was dubbed the "Ice Princess" because of her calm, cool, and collected demeanor. No matter what the situation was, she always seemed rather aloof. Sometimes she still is this way, though it appears that she has opened herself up more recently. Other members claim that she has difficulty expressing her emotions, which is normal for an Aries, and shows her emotions through actions rather than words. There is rarely a time when we see her "act out" or behave in a manner that is not suitable for a princess, as she is always composed. She seems to leave the quirky image for the other girls. Instead, she is the one watching them do crazy things–in a bored manner, of course. Her classy demeanor commands respect from anybody, with people viewing her as the cool girl that should not be crossed.
However, Jessica is much more than just a princess. She is a beloved member and a valued asset to Girls' Generation. As one of the lead vocals, Jessica plays a major role in the girls' songs, with her distinct, high-pitched voice adding a unique, unforgettable flavor. Of course, she has to take care of her prized voice, so she never yells if she can help it, though she does scream like a dolphin when she gets scared.
Over time, she has changed from someone who was somewhat distant to a warmer, more open person. UFO replies back in '07 and '08 were blunt and direct, but nowadays they seem more cheery and friendly, as if she has gotten to know her fans now. On recent shows such as 'Hello Baby' and 'Star King', it's easy to see how much her personality has changed: she's definitely stepped out of her shell. Lately we've seen her get more involved and interested in fashion, from attending fashion shows as a guest to actually strutting down the runway. It seems sometimes that there is nothing she can't do (besides cooking). She's shown the world herself in countless ways and is constantly finding methods to expand her already large range of talents. Even musicals are not off-limits: she played Elle Woods in 'Legally Blonde' and rocked the stage, like she usually does. She managed to juggle her solo activities while promoting 'Oh!' and still received outstanding reviews.
But apart from being the performer Jessica, we also see a family-oriented, sensitive, and emotional person. She expresses care for her fans, once saying that "some relationships don't need words," and also for her family. She has mentioned multiple times her regret for not being able to care for her younger sister Krystal, as Jessica was training to become a singer. She seems distant at first, since her shyness covers up that facet of her personality. She can't open up right away to everyone, and that was the cause of many jokes back in the debut days, but that is gone now. We see a cheerful, playful, no longer reserved Jessica. We see that she cares, without her needing to use words to show it. Her hard work for her fans and Girls' Generation is speech enough. Balancing multiple performing obligations while receiving minimal sleep is no lame feat, and it can only be done with true passion and love. She loves her work and her fans, and this is her way of showing it. Like a former SM trainee said, Jessica did not say much but had immense impact with her actions. Indeed, her remarks often cut straight to the chase and leave nothing out, with no beating around the bush. Her actions, likewise, are no less direct and full of meaning.
So this year, we would like to thank Jessica for all her hard work and endeavors, for all her spirit and dedication, but mostly, for completing the group we know as Girls' Generation. We want to wish her a happy birthday, another happy year spent as our beloved Jessica, and hope that she enjoys her work as much as we enjoy watching it. May she never lose the drive that we see so clearly and cherish so dearly. To Jessica from Soshified, happy 22nd (23rd) birthday.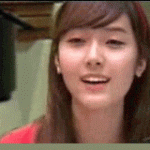 Also, don't forget to leave a birthday message for Jessica here!
Written by: MaiMai!@Soshified.com
Images: residentbenchwarmer@Soshified.com
Edited by: Soshified Writing Team