On 17th April 2011, Girls' Generation performed at the Angel Price Music Festival, organised jointly by Lotte World and Coupang.
During the event, an unfortunate incident happened, as the hired security was lax and did not perform up to standards. Near the end of the 'Run Devil Run' stage, Taeyeon was dragged off-stage by an unidentified individual. The other members were also caught unawares and tried to stop the man, to no avail. The event's host, comedian Oh Jungtae, managed to prevent the man from dragging Taeyeon away. According to fanaccounts, the man appeared from back-stage and was later detained and apprehended by security after the performance.

Starts at 3:32

Starts at 3:38
Despite the sudden and shocking circumstances, Taeyeon kept calm throughout and even reassured fans that she was alright after the incident was contained. The girls went on to continue to perform 'Hoot' and 'Gee' with smiles, showing their highly professional attitude. Leader Taeyeon in particular showed that she was not affected by the incident, with fantaken pictures and videos of her showing a bright smile in the subsequent performances.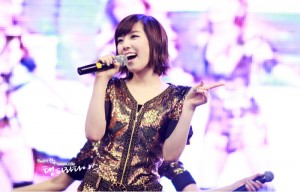 Feedback can be provided to Coupang through their official website and twitter (@coupang).
Written by: soshiluv9@soshified.com
Sources: tangpa@twitter, oskar_w@twitter, kwongildong@twitter, deermuffin@twitter, withsosiz9dot1@youtube, dorkvicky@youtube.com, percy84100@youtube.com, KhanhinKorea@youtube.com, dune0630 (Thanks to member Ub the Bub for the link)