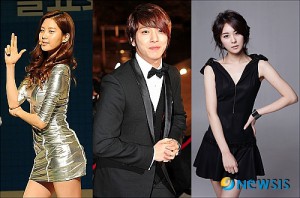 Boy band CNBLUE's vocalist Jung Yonghwa and actress Son Eunseo found some common ground with Girls' Generation's maknae Seohyun.
On the 19th of April episode of SBS' Strong Heart, Jung Yonghwa and Son Eunseo talked a bit about Seohyun.
Last year, Lee Soonjae found Son Eunseo to be very similar to Seohyun. Even Girls' Generation's Yoona admitted that both of them look alike. During a predebut CF Yoona starred in back in 2007, she saw Son Eunseo and said "Right now a fellow member whom I'm preparing to debut with looks a lot like you."
Yonghwa and Seohyun recently ended their virtual marriage on the second season of MBC's We Got Married after one year. On last week's episode, the teaser for the next episode showed Jung Yonghwa shouting "I love you" to Seohyun, garnering heated response from fans. Later on, it was shown that when Yonghwa told Son Eunseo "You really resemble Seohyun," MC Kang Hodong gave him a compromising question. In order to avoid the question, Yonghwa just shouted this as an answer.
Do you think Seohyun and Son Eunseo look similar? What do you think of the return of YongSeo?
Source: Newsis via Nate
Written by: spiceshoe@soshified.com
Contributors: shizzles9, oniontaker, soshiluv9, doe@soshified.com
Have a news item that you think Soshified should know about? E-mail us at tip@soshified.com.
Follow us on Twitter: http://twitter.com/soshified for the latest on Girls' Generation.