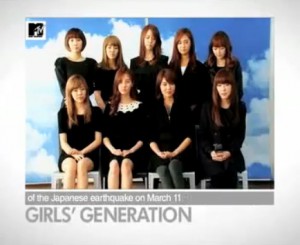 On the 11th of March, Japan was hit by a massive 9.0-magnitude earthquake near the northeastern coast of Japan, followed by a tsunami that left the people in devastation. Just moments ago, SM artists—including our girls—were on MTV Asia to encourage people to donate to charities helping Japan.
A soft and touching melody accompanied the short and encouraging message for the two versions: one in Korean and one in English. Both Tiffany and Seohyun spoke for the Korean version, which features other artists such as SHINee, f(x), and Rain. Tiffany also represented the girls for speaking in the English version, ending her message with her signature "God bless!"
Watch the videos below, and don't forget to donate to the foundations helping Japan. Soshified is also providing a way for you to donate until the 31st of March.
Credits: latenighttragedies@Youtube.com
Written by: spiceshoe@Soshified.com