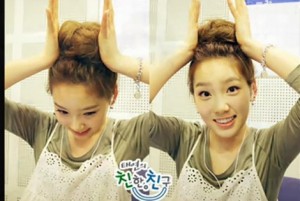 A SNSD fanmade Taeyeon video has been gaining popularity.
An online community recently posted a video under the topic title of 'Taeyeon, Pretty'. This video was made by a fan, using photos from when Taeyeon was active as a DJ on MBC FM Radio 'Taeyeon's ChinChin', as well as Shinhwa's 'Pretty' as the background music.
In the photos, Taeyeon can be seen making friendly and playful poses with fellow SNSD members, along with other guests and staff members.
Netizens commented, "[She's] really pretty", "I wish she would return to the radio", "Her natural appearance makes it even more fresh and cute", "I miss Taeng DJ", and, "It seems she has the personality of being friendly with anyone."
Translated by: ch0sshi @soshified.com
Credit to: 이민지 기자 – newsen.com (via sportsseoul.com)
Video source: DongLie1 @youtube
Original article: LINK