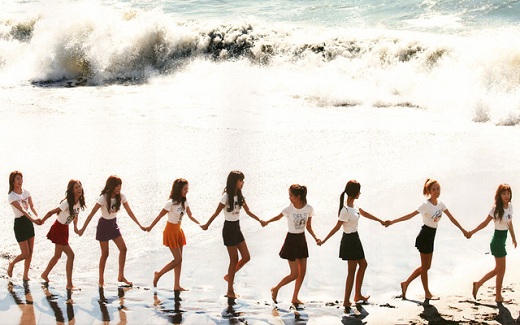 With 2011 marking Girls' Generation's 4th year in the ever-expanding K-Pop industry, it has become second nature for fans and the public alike to focus on SoShi's future prospects. The anticipation for what is to come takes centre stage and with their top dog status already established, it is of no surprise that even critics are anticipating the girls' next moves.
This monthly column, however, will serve to take you back a few steps and remind you of how Girls' Generation came to be. While the older and more seasoned fans can reminisce and recall the earlier days, the new fans can learn and understand more about how the girls have grown over the years. We'll start this column off with January. Yes, it's already nearing the end of February, but this only resonates further with the "few steps back" idea, doesn't it? January has always been a notable month for the girls in that we saw not just the birth of new concepts, but also their undeterred persistence to promote and protect the name of Girls' Generation.
2008: In 2008, we will become a Girls' Generation who will stand on higher ground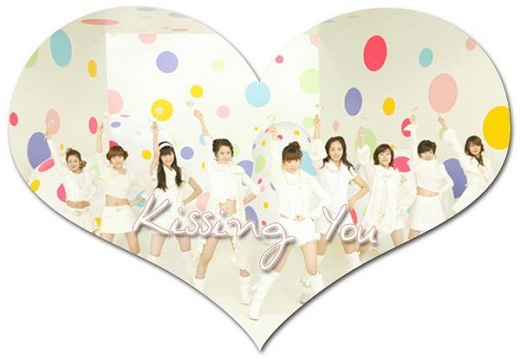 Kissing You, the girls' second single from their eponymous album, stole the hearts of many with its sweet catchy tune, dynamic music video, and lollipop props. While the song itself might not have necessarily topped online charts, it boosted their first offline album sales by drawing new fans. Keeping up with their fresh-faced and lively demeanor, the girls put in the utmost effort to showcase their overflowing energy and outgoing attitudes. And let's not forget the much-discussed topics of maknae pinning up her bangs in select performances as well as Yoona's tummy-revealing outfit….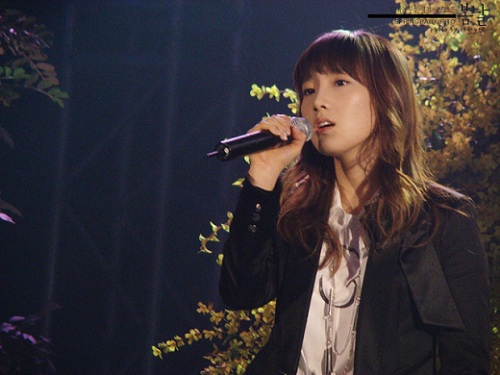 Individual milestones, of course, shouldn't be ignored. January marked the release of Taeyeon's first solo OST release, If, that took the country by (a melancholic) storm. The song eventually peaked at number 1 on the Cyworld daily chart (with Kissing You following closely behind). It proved our kid leader's abilities to lead a song on her own and undeniably catapulted her status as a solo artist into the stratosphere. Needless to say, it opened doors for her and she gained numerous offers to sing more OSTs. On a side note, 5 of the girls also sang a song called Little Boat for the same drama, Hong Gil Dong.
Meaningful Dates:
11th Jan – Last Girls' Generation (the song) performance on music shows
12th Jan – Release of Kissing You music video
13th Jan – Kissing You debut on Inkigayo
24th Jan – Release of Hong Gil Dong OST: If & Little Boat
2009: It's not like we are machines, we are people.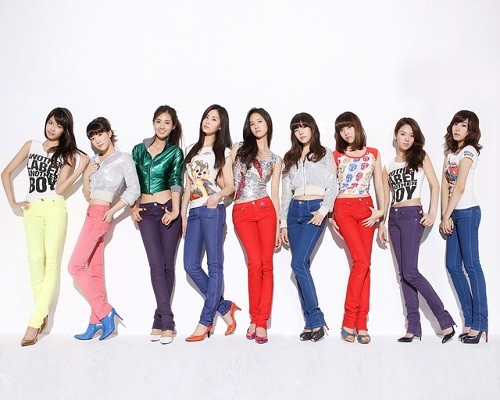 2009, like all well-informed K-Pop fans would know, was Girls' Generation's year. After 8 months of group hiatus, they came back with a new sound that propelled them to attain multitudinous achievements. Not only did they gain recognition for the ever addictive song, Gee, they earned praises for reviving the industry that was suffering from bad offline sales, and for creating fashion trends surrounding the popular colored skinny jeans. With Gee, the girls fearlessly set record after record (like winning 9 times in a row on Music Bank) and were proving to be the rising stars of the year. While Kissing You expanded their fanbase, Gee earned the girls national recognition. If you weren't around during the unstoppable Gee craze, it'd be best to start backtracking from there since it was the start to one of their most active years yet.
Meaningful Dates:
1st Jan – Gee MP3 teaser released
2nd Jan – Gee MV teaser released
5th Jan – Gee MP3 released
6th Jan – Yoona finished with KBS Drama "You Are My Destiny"
7th Jan – Gee Mini Album & MV released
8th Jan – Gee All Kill on online charts
10th Jan – Gee Debut on Music Core
2010: With 2010 upon us, we will start again with the mentality of a rookie and set off again.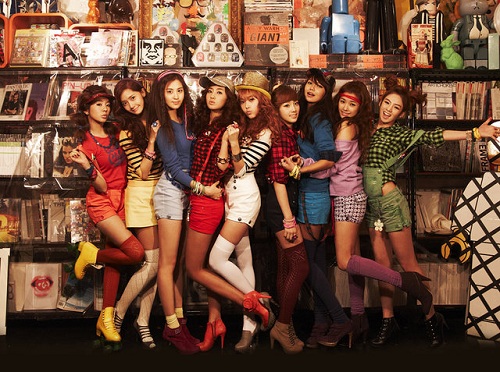 After a year of constant events, many would have thought the girls would take a short break or venture elsewhere. However, the girls returned with Oh! at the end of January to show yet again their persistence in continuing to dominate the industry. It was more than enough to continue feeding the SoShi addiction with their energetic cheerleading concept and eccentric hairstyles. Not willing to break the momentum, the girls sealed their reputation with another round of catchy dance moves and hook lyrics. This was undoubtedly the song that extinguished any remnant of doubt towards the success Girls' Generation could achieve and maintain.
Meaningful Dates:
23rd Jan – Oh! MV teaser released
25th Jan – Oh! Mp3 released
28th Jan – Oh! album released (1st day sales according to the Hanteo chart were 23,176)
30th Jan – Oh! Debut on Music Core
Of course, for an idol group who has spent an average of 5 years training in a diverse number of aspects, it wouldn't be fair to disregard the prominent activities in areas other than the musical standpoint. The girls spend a fair (sometimes excessive) amount of time on variety shows, radio shows and even photoshoots or endorsements. This section of the column will therefore include the random facts and mini discoveries compiled for the month ranging from 2008 all the way to 2010.
The Pieces & Fragments of January:
Fanart posted in January
2008:
1. All 9 turned up for a fansigning on 16th Jan, which is considered pretty rare since they normally split into groups.
2. SNSD donated their first ITNW outfits to UNICEF for charity.
3. Hyoyeon mentioned in a radio show that her ideal man was Fly to the Sky's Brian Joo.
4. The girls modeled for Dior, a brand that they are currently endorsing.
5. On 31st January at the Seoul Music Awards, Taeyeon called the fans 'Honey', raising speculations that it would be the name of the official fanclub.
6. Lee Seungchul personally chose Yoona to appear in his MV, Propose, but felt bad for not choosing the rest. The girls came over to the set to show their support.
7. Taeyeon won Star Golden Bell and became (in that month) the youngest winner so far. Sooyoung later succeeded her as the youngest winner.
8. Kissing You had a few funny incidents. Jessica used to confuse her lollipop and microphone and use the wrong item to sing with on stage. Taeyeon had the infamous lollipop incident when it flew into the crowd during the Asia Model Awards, leaving her shaking the candy-less stick for the ending. The girls kept eating and breaking the lollipops to the point that they were eventually given fake ones as replacements.
2009:
1. Sunny collapsed on 1st Jan due to exhaustion.
2. On 26th Jan, Tiffany called in to close friend Isak's Mid-Day Break radio and gave a short shout out to Soshified on air.
3. Taeyeon and Hyungdon were officially announced as the new married couple for variety show We Got Married. Their 1st episode was aired on the 25th.
4. It was announced on the 29th that the girls were part of the first batch of artists announced to attend the 7th Annual Korea Times Music Festival (Hollywood Bowl).
5. The first three artistes who publicly declared their love for Gee were Kim Yuna, Lee Yeon Hee and See Ya.
6. There was speculation that the roller skates from the album cover would play a big role in their concepts, but they eventually didn't.
7. Gee had more than 1 million hits on GomTV after only a day it was released. Overall for the month of January alone, it sold about 70,000 albums and the girls won 3 Music Bank trophies. They did not perform and were not present for the first two wins due to disagreements between Music Bank and SM Entertainment.
8. More than a thousand fans waited outside the MBC building to watch the girls perform their debut Gee performance on Music Core, but only 1000 were allowed in. Music Core had to replace the chorus of Gee because the fanchants were too loud. Yuri & Taeyeon were reportedly sick on the day of the performance.

2010:
1. SM finally created a Youtube account to launch teasers and the MV, so Oh! was the girls' first song teaser to be uploaded. (Gee was only uploaded a few months after it was released).
2. The Oh! MV gained 100,000 views just within 2 hours after its release.
3. Yuri & Seohyun confirmed their decisions to enter university (Chung-Ang University & Dongguk University respectively).
4. The girls had a week of break after completing 2009's year end activities. However, Taeyeon continued with Chinchin, Yuri & Sunny with IY filming, and Jessica also participated in her Legally Blonde musical during the break.
5. On 8th January, SM confirmed Yoona as one of the permanent members of the new Family Outing 2.
6. Rainbow's Jisook mentioned that her favorite artist was Taeyeon, and Park Yoon Hwa from T-Max revealed his crush for Jessica. Also UFC fighter Kim Dong Hyun confessed that his ideal type was Taeyeon.
7. Sooyoung mentioned on Oh Sangjin's radio show that about 20 staff members are with the girls when they move around. She also revealed that the instrumental track for her solo song 'Santa Baby' for their 1st concert was so costly that they reused the track for 2009's MBC Gayo Daejun with all 9 of them performing.
8. Taeyeon told a funny story on ChinChin about how their manager sent love messages to Tiffany by mistake. She also said that during their Tell Me Your Wish (Genie) days, Seohyun would eat pumpkins without stopping till Taeyeon discovered her body had turned yellow and made her stop eating them.
Shows Released (And definitely worth watching)
UFOTown Interview Event – SNSD [12.28.07] (SoShi Subs 1st Subbing Project)
Park Kyung Lim's Wonderful Outing : SNSD [01.12.08]
SNSD – BTS Cafe Event – Episode 01 [01.09.08]
SNSD – BTS Cafe Event – Episode 02 [01.10.08]
SNSD – BTS Cafe Event – Episode 03 [01.10.08]
Good Daddy EP 10 – Tiffany & Yuri cut [01.10.09]
Taeyeon's Chinchin Radio – SNSD [01.13.09]
Super Junior's Kiss the Radio – SNSD [01.14.09]
MTV Girls on Top 2 EP 10 – Yoona [01.09.10]
MTV Girls on Top 2 EP 11 – Yoona [01.16.10]
Awards Achieved:
17th Seoul Music Awards: Best New Artist Award on January 31st, 2008
—-
#1 on KBS Music Bank for on January 16th, 2009
SBS Inkigayo Mutizen Award for on January 18th, 2009
#1 on KBS Music Bank for on January 23rd, 2009
#1 on KBS Music Bank for on January 30th, 2009
Song of the Month for the month of January 2009 from Cyworld
—-
16th Annual Korea Entertainment Arts Awards Ceremony : Best Female Group on 3rd January 2010
16th Annual Korea Entertaiment Arts Awards Ceremony : Best Female Radio DJ
Korean Ministry of Culture and Tourism : Content Industry Award (Special Honor) on 13th January 20
And with that, I hope you've enjoyed the walk down January lane, fill your minds up with as many Soshi bits as you can before they return with more! See you next month!
Written by: mellybee@soshified.com
Sources: SNSD Soompi Thread, Soshified News, yuhdan@youtube
Contributors: soshiluv9@soshified.com, itnw0628@twitter, residentbenchwarmer@soshified.com