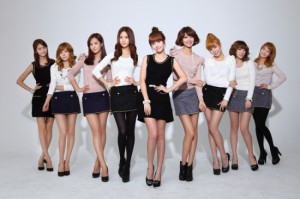 Girls' Generation was voted as a star who will have the biggest impact in Korea in 2011.
Economy magazine Forbes Korea released recent 2011 Korea star power ranking. Girls' Generation got first~third place in all of number of articles, TV CFs, internet search, sales, activity, etc, and got first place overall.
Last year, Girls' Generation sold the most albums within Korea. Despite album market being in depression, they sold over 270,000 albums and took first place over Super Junior.
Also, they appeared in 25 CFs and proved themselves as powerhouse of CF market. It's been analyzed that the sale total that Girls' Generation have earned through album sales, CFs and TV appearances is USD$8,880,206.
From there, activities in Japan shined. According to Sankei Sports, after Girls' Generation debuted last September, they earned 880 million yen (approximately USD$10,656,247) in album sales alone just late part of the year.
Just in sales, they earned at least USD$19,536,453 and took second place after Bae Yongjoon in sales category.
Individual member activities also shined. Sunny and Yuri through KBS2 'Invincible Youth', Seohyun through MBC 'We Got Married', each showing off their ability.
Taeyeon sang "Like A Star" with The One, and had a hit song with SBS drama 'Athena OST', grabbing attention as OST queen of new generation. Yuri and Tiffany also showed off their skills in MBC 'Show! Music Core'.
Especially last year, they showed off their hidden charm 100% through their first concert since debuting, making the crowd go wild.
Through these, they got lots of shining achievements in sales, media and broadcasts, activities and selected as a star who will brighten 2011.
Meanwhile, in Forbes star power ranking survey, Kim Yuna, who got first place the past two years, dropped to third, and soccer player Park Jisung climbed up to second, settling themselves as Korea representing sports stars.
Other than them, Lee Seunggi, 2PM, 2AM, Lee Hyori, Rain, Super Junior, Big Bang, 2NE1, B2ST etc made to the top half of the list, showing off the power of singers.
translated by: 오이사랑싴@soshified.com
Credit: Baek Jieun (silk781220@sportschosun.com)
Source: Sports Chosun