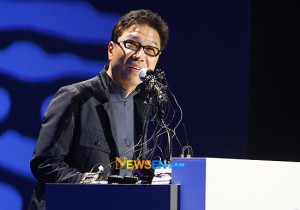 The success of SNSD has brought great improvement for SM Entertainment in the markets. After SM Entertainment Chairman Lee Sooman recorded a 20bn KRW (18m USD) gain in the value of his shareholdings, Moneytoday estimates that his personal stock valuation is set to break 100bn KRW (90m USD) once more.
At the time of writing, a share in SM is valued at 21,750 KRW. Lee Sooman currently holds 4,041,465 (24.32%) with an estimated current value of 86bn KRW (77.4m USD). At the end of last year, SM shares were priced at 16,900 KRW, and Chairman Lee's personal shareholdings was valued at 68.3bn KRW (61.5m USD).
On November 1st 2010, Lee became the first Korean celebrity to break the 100bn KRW with a valuation of 108bn KRW. Since then, the share price dropped gradually and he has sold 500,000 shares for a profit of 8bn KRW (7.2m USD). However, with the national activities of DBSK and the ever-increasing popularity of SNSD in Japan, SM's value is increasing. With this, Lee has gained 20bn KRW and is set to break the 100bn KRW barrier once more.
Translated by: oniontaker @soshified.com
Credit to Nate Entertainment & Digital News Team, NewsEn Reporters
Original article(s): LINK LINK LINK