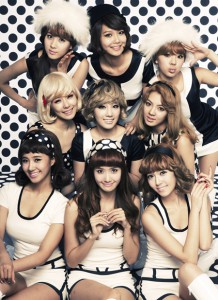 [Newsen Kwon Soo Bin reporter]
SNSD's first solo concert, "The 1st ASIA TOUR CONCERT 'Into the New World'", will go on sale on Dec.30th.
This album consists of SNSD's two day concert at Song Pa Gu's Fencing Stadium in Seoul. This album, containing
"The 1st ASIA TOUR CONCERT 'Into the New World'", is expected to help SNSD fans to re-experience/live the concert.
This album will include 2 different CDs and has a total of 38 different songs with every member's presentation
of the song's colors on stage. The album will also consist of 2 bonus tracks; the first one is the concert's BGM
"Beautiful Girls'" and the second is studio recording version of "Singin' in the rain".
The song, "Beautiful Girls'" a.k.a. anthem of SNSD is known for its passionate lyrics portraying the SNSD's rise in
stardom. All the SNSD fans will agree that this R&B song's lyrics are inspirational. Furthermore, the "Beautiful Girls'"
music video that was shown during the first concert will also be revealed. The music video features each member walking down
the runway with their own unique sense of style and charm.
Translated by: DjAddick@soshified.com/forums
Original: LINK