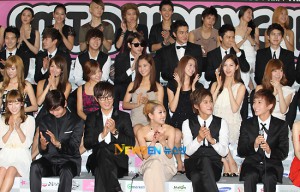 SM Entertainment has been chosen as the year's best 'Powerman' in the entertainment business by Sports Hankooki.
Through Sports Hankooki's recent survey asking 100 experts to choose 'This Year's Star Award', SM Entertainment received 28 votes. SM received the most votes with the question of 'Please pick the person or organ that you think influenced Korea's entertainment industry this year'.
This year, SM was acknowledged with the successful debut in Japan by SNSD. Secretary-general Kim Gilho, of the Entertainment Management Association, stated, "[SM] spread knowledge on our culture industry to Japan." KBS drama EP Kwak Kiwon stated, "They were a large influence towards half of the entertainment industry," as his reason behind choosing the company.
With their advancement into the Hallyu world, SNSD was able to take 'This Year's Star Grand Prize'. After the creation of the 'This Year's Star Award' in 2005, this is the first time a management company and a celebrity under the said company have received both the 'Powerman' and 'Star Grand Prize'. After being chosen as the 'Powerman', SM representative Kim Youngmin stated in an interview with Star Hankooki, "Without the vitalization from the Korean market, we could not safely secure the foreign market. We will emphasize on the domestic market next year."
[omitted]
SNSD received 36 votes, earning them the 'Star Grand Prize'. Through an interview following their win, SNSD stated, "Our first stage at the showcase in Japan is a moment that we will always remember. We want to have a world tour next year and spread knowledge on Korea all over the world." SNSD had one hit after another this year with 'Oh!', 'Run Devil Run', and 'Hoot'. Not only did their songs gain popularity, but their choreography and fashion also garnered much interest, causing a cultural phenomena. Their debut in Japan , last August, also lead the K-pop trend. Right behind SNSD in the running to taking the 'Star Grand Prize' was Wonbin, from the film 'The Man From Nowhere', with 19 votes, and Janghyuk from KBS 2TV 'Chuno' in third with 6 votes.
Translated by: ch0sshi @soshified.com
Credit to: newsen.com
Original article: LINK