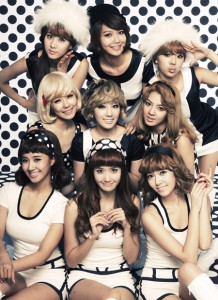 SNSD's Korean album has ranked in second in Oricon's weekly chart.
According to the Oricon chart on the 28th, SNSD's album 'Hoot', which was released on the 22nd, has sold over 60,000 copies, landing them in second in their weekly chart.
This album consisted of the Korean version of the mini album 'Hoot', along with 'Genie', 'Gee', and other previously released Korean singles. It also included a DVD with footage from their first showcase in Japan, the music video for 'Hoot', and a star card, increasing fans' desires to purchase the album. Another factor that seems to have played a role in the high album sales was their appearance on Asahi TV's 'Music Station-Superlive'. SNSD was able to realize their popularity in Japan once again.
Their ranking this time around is even more meaningful, as the album released was a Japanese licensed, but consisted of songs that were all in Korean. SNSD's 61,000 copies sold in its first week is the most a Korean album has sold yet by a Korean idol. They sold 10,000 more copies than KARA's Korean best album, which sold approximately 51,000 copies.
The Kpop trend and SNSD's popularity has once more been firmly proven with the 61,000 copies of a Japanese licensed Korean album sold within its first week, and landing in second in the Oricon weekly chart. It is expected that, with the fact that a Korean album was able to gain so much popularity in Japan, it will become a big help when clashing Korean and Japanese cultures.
Translated by: ch0sshi @soshified.com
Credit to: 김형우 기자 – newsen.com
Original article: LINK