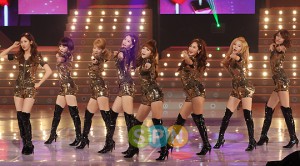 [Edaily SPN Reporter Park Eunbyul]
Rather than promoting a follow-up song, group SNSD will showcase their charms through variety show programs.
On the 9th, a representative from their company SM Entertainment stated that SNSD will not promote a follow-up song from their mini-album Hoot. They said that it will be difficult to do so due to member Tiffany's leg injury.
On the 14th of last month, Tiffany fell and hurt her knee during a performance of Hoot. Due to the doctor's advice that she should rest for four weeks in order to heel, Tiffany has been resting and wears a cast on her leg. The company has decided that even if she is allowed to take off the cast, it will be too much to jump right into performing onstage.
For a while, SNSD will be able to show different sides of themselves to their fans through variety shows rather than through music promotions.
Already SNSD has been focusing on variety shows rather than performances onstage since Tiffany has been injured. Apart from member Seohyun's weekly appearance on MBC We Got Married, SNSD appeared on SBS Running Man, Strong Heart, KBS 2TV Happy Together, Night Star, etc.
Recently, they have also filmed a special anniversary episode of MBC Come to Play With Yoo Jaesuk and Kim Wonhee and Sunday Sunday Night- Enjoy Today. They're making it their goal to show a different side that fans haven't seen before through variety shows.
source: http://spn.edaily.co…

translation: soshi00@soshified.com