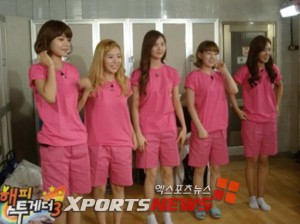 On the 11th, the broadcated KBS 2TV "Happy Together Season 3", SNSD makne Seohyun unveiled the special sleeping habit of Sooyoung.
Seohyun is always the first to wake up before the other members do.
Seohyun revealed to wake up Yuri, she will turn on the lights but Yuri will tell her to turn it back off, while Tifanny says "I'll wake up" but doesn't wake up in the end.
Compare to that, Sooyoung easily wakes up, causing Seohyun to wants to wake her up. However, one time Seohyun went to Sooyoung's room and said, "Unni, it's time to wake up" but Sooyong was sleep talking and said "I know, you just take care of yourself", causing Seohyun to be hurt by the mean words.
To this Sooyoung could not remember it at all and could not hide her embarrassment, in which Sooyoung and Yuri's shame caused laughter.
To watch Seohyun talking about the sleeping habits of the SNSD members, it will be broadcasted on the night of the 11th.
Translated by: Yeji@soshified.com
Credits to: 엑스포츠뉴스=방송연예팀 원민순 기자
Original Article: CLICK