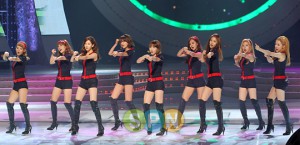 SNSD's constant popularity can be seen in Japan.
On Oricon's weekly ranking for the 8th, SNSD's 2nd single "Gee" came in at rank #3. This is the 2nd week in a row that SNSD has been in the Top 5 in the weekly rankings and it displays their popularity.
Also, this song sold 13,320 copies in its 3rd week. This totals the sales up to 102,881 copies sold. SNSD's debut single "GINIE"[sic] achieved the 100,000 mark in their 8th week. So, this is the second time their work has passed the 100,000 copies mark.
Currently, SNSD's new album is a big hit in Korea as well. Their 3rd minialbum "Hoot" is sweeping the music programs and music charts.
Translated by: Kanki@Soshified.com
Source: [LINK]