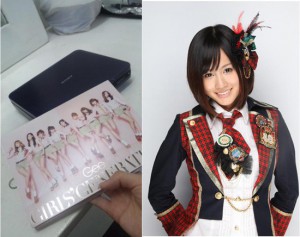 Maeda Atsuko, member of Japanese female idol group AKB48, mentioned SNSD on her blog.
On the 22nd, Maeda Atsuko wrote, "I'm watching SNSD's new music video while getting my make-up done." She also included a picture of SNSD's 2nd Japanese single "Gee". She showed her love for SNSD by writing, "They're cute. I also want a slender figure (like SNSD)."
In an AKB48 popularity contest, Maeda Atsuko ranks #2. She is also active in movies and dramas, showing her ability to perform in various fields.
Translated by: Kanki@Soshified.com
Source: [LINK]