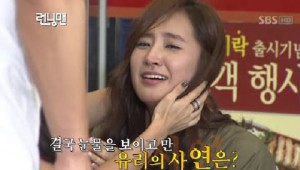 Netizens are greatly expecting SNSD member Yuri's appearance on next week's 'Running Man'.
On the afternoon of the 24th, after a trailer of the broadcasted entertainment program, 'Running Man', there was a sudden interest on Yuri's appearance. In the trailer, Yuri and the other members of 'Running Man' had a hide-and-seek game in a supermarket.
Yuri, on the 29th, will make a comeback with SNSD's third mini album, Hoot!. It appears that Yuri recorded this episode prior to her comeback.
Yuri crying in the preview has sparked curiosity amongst netizens.
Netizens who've seen the trailer have reacted hotly, saying, "I was surprise to hear the news that Yuri will appear" "I've already started to anticipate this. I really want to see soon." "Why is Yuri crying? I'm so curious that I don't think I can wait until next week."
In one part of the broadcasted show, 'Running Man', members are made as the maintenance and inspection team, in which they have to find the train depot in the Metro 3 Jichuk Station, which brought a lot of laughter while performing the mission scene.
T/N: See the trailer below.
[media]http://www.youtube.c…h?v=HroAp0pmcfY[/media]
Credits (Video): wonderfulgeneration
Translated by: Yeji@soshified.com
Credits to: 이데일리 SPN 박은별 기자 Reporter Park Eun Byul
Original Article: CLICK