On September 8th, SNSD released their Japanese debut single "GENIE". They debuted on ORICON at rank #4 and became the first foreign female artist to achieve this. After everything is said and done, their charms are: The 9 of them dancing, their costumes, and their beautiful legs dancing in sync. GENIE is fascinating because of the perfect beautiful leg dance. They are releasing "Gee" on October 20th and that too has become a hot topic.
By the way, the choreography for their first single "GENIE" was done by hip hop dancer Rino Nakasone from Okinawa. (Current married name: Rino Nakasone Razalan).
After she moved to America at 19, she toured with various artists as their back-up dancer. Currently she is a dancer and dance instructor in Los Angeles. Also she is in charge of the choreography of Yunho and Changmin's "Maximum" together with Jae Won. She's a direct hit.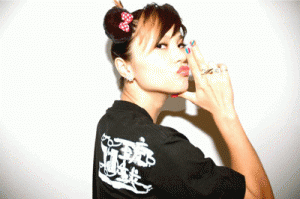 After going to America at 19, she became an assistant choreographer for Janet Jackson. She was also a back-up dancer for Britney Spears and Gwen Stefani. She married Lee Razalan in 2007.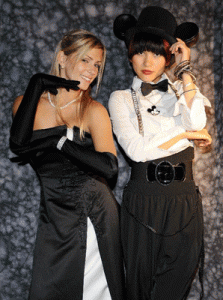 On the left is her partner Maryss from the unit "The Geminiz".

She also performed as a member of the Beat Freaks in "America's Best Dance Crew Season 3".
Q. SNSD's "GENIE" is a hot topic in Japan as well, how did you come to be in charge of the choreography ?
A. Honestly, I've done choreography for SNSD and SHINee (also from SM Entertainment) several times before. This particular time, I was pleased when I became in charge of "GENIE". I didn't teach the girls this particular song in Korea, I recorded a video in LA and sent it to them so they could watch it and learn it. SM Entertainment choreographer Jae Won was there and was able to correct some things with them and make "GENIE" perfect.
Q. The fascination of the beautiful leg dance is also a hot topic in Japan. Was there something that helped you come up with the idea for this choreography?
A. I really don't remember if there was something specific. When I heard the song, it gave me inspiration and that's how I came up with it. Apart from that, I wanted to give them something simple so they could sing while dancing.
Q. If I remember correctly, when they were about to do their Japanese showcase, many fans were outside of the venue copying their dances.
A. K-POP is simple so that many people can copy it, they request that we have catchy and unique choreography. The chorus part is particularly important.
SNSD is really popular in Japan as well, but what are the charms that you have particularly seen?
A. They're a group with amazing teamwork. The 9 of them are a large family and their cooperativeness is particularly wonderful. They're also really speedy at memorizing choreography. They're a group, but they also have varying individual schedules, so it's hard. I stayed in Korea to teach them the choreography for "Oh!", which they released this past January, but all 9 of them were present only 1 or 2 times. But on the rare days when they were all present, they were able to dance together perfectly. I really felt nothing but admiration for them.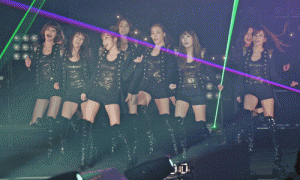 Nakasone is the creator of SNSD's beautiful leg dance, which is certainly catchy.
Q. K-POP artists have a strong desire and ambition to learn Japanese, don't they?
A. The other day, I was in charge of doing choreography for Yunho and Changmin and when we talked, even I was surprised at how skilled they were at Japanese (Haha). Moreover, BoA can also speak English. Other artists are also enthusiastic about studying.
Q. A bit ago, you mentioned being in charge of the choreography for SHINee, can you talk a bit about that?
A. At the time of SHINee's debut, their dance office was looking for a new choreographer. At just the right time, they watched a video of my class in LA on YouTube and were pleased with it, so that's how I became in charge of SHINee's debut song "Noona, You're So Pretty (Replay)". Actually, this song was also my debut song as a choreographer. So, because of that I have a lot of special memories.
Q. It was their debut song as well as your debut song. Didn't you feel pressure?
A. First, I listened to the song and thought about it in my own way, so I showed them that. They're not dancers, they're artists. Since there are 5 of them, I studied a lot about how to make good choreography to make all 5 of them stand out. Even now I have to learn a lot of various things.
What are the different charms in working as a choreographer versus being a dancer?
A. Since becoming a dancer was my dream, I moved to America because that's the only place I could really do it. I had no idea that I would become a choreographer for the K-POP world. Previously, I would copy Michael Jackson's choreography, so when people started to watch my choreography and copy my dances, I remember feeling really moved. So, I'm so grateful.
Q. What's your dream after this?
A. I definitely want to continue being a dancer and continue creating different things. Lately since I have a lot to do with artists, I also have an interest in training (them). If given the chance, I definitely want to take the challenge.
I'm also in charge of the choreography of BoA's 6th album repackage song "Copy & Paste" as well as SHINee's 2nd album repackage song "Hello" (Together with Maryss).
Nakasone wants to spread her work as a dancer and choreographer. Look forward to more of her activities from here on out.
>
[SHINee]
Noona, You're So Pretty (Replay)
You're Like Oxygen
Julliette
Lucifer (with Jae Won)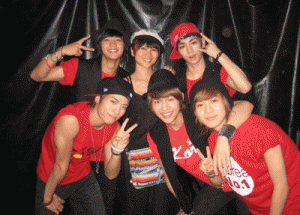 A shot with contemporary band SHINee. Jonghyun, Onew, Taemin, Minho & Key.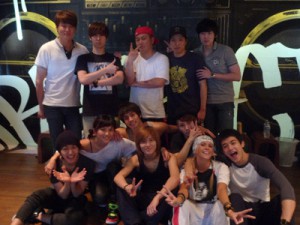 Nakasone has been with SHINee since the beginning. They transformed in to charismatic roles in "Lucifer", displaying a powerful performance.
[SNSD]
GENIE (with Jae Won)
Oh!
[f(x)]
Chu (with Hwang from SM)
Nu ABO (with Maryss From Paris and Jae Won)
[SUPER JUNIOR]
No Other (with Maryss From Paris)
[BoA]
Dangerous
Copy & Paste (with Maryss From Paris)
[Kangta]
Love, Frequency (With Maryss From Paris and Korean choreographer)
[Yunho & Changmin]
Maximum (with Jae Won)
Translated by: Kanki@Soshified.com
Source: [LINK]