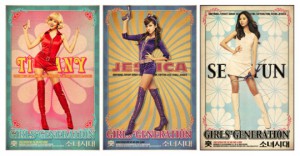 SNSD has currently become popular in both Korea and Japan. On the 20th SNSD will release their 2nd Japanese single "Gee" and then they will release their new minialbum "Hoot" in Korea. They will be at the center of Asia's music market by releasing products in Japan and Korea at the same time. It's a strategy to fortify their position as Asia's best girl group.
It was thought that SNSD would be pouring most of their efforts into their Japanese promotions and not have anything going on in Korea, but with the announcement of their new album it has become a hot topic among fans. The last time they released something in Korea was their repackaged album "Run Devil Run" back in March, it has been 7 months. On the 19th, SM Entertainment announced their new album through a teaser site (http://girlsgeneration.smtown.com) .
SM reported, "Tiffany, Jessica and Seohyun's images will be the start and then all of the member's photos will be placed on the site." And "Since the Korean fans have been supporting the girls' overseas activities this is a surprise present for them."
"Hoot" will be an SNSD-like rhythmical dance song. The members' posters show the girls in miniskirts while holding a gun in their hand. The sexy look makes us think of "Bond Girls".
Their promotion schedule for Japan and Korea is tight. On the 16th and 17th SNSD had a solo concert in Taiwan where 24,000 fans were in attendance and right after that they headed to Japan. On the 20th, they will release their single "Gee" and after the publicity for that they will return back to Korea this weekend to practice their dance for "Hoot".
Translated by: Kanki@Soshified.com
Source: [LINK]