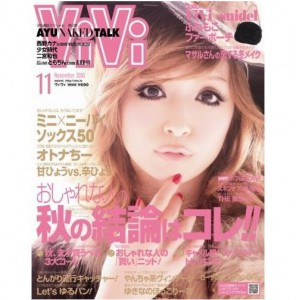 9 member Korean group SNSD will appear in the November issue of "ViVi" magazine.
ViVi girls are fully supporting these 9 girls which have lovely looks and extraordinary style. The magazine will discuss their beauty secrets, fashion and a close-up on what makes these 9 girls so appealing.
All the members of SNSD are famous for their great legs, but to get their beautiful style they have dance lessons for about 6 hours per day on average.
Yoona commented, "We dance in heels a lot, so when our feet swell after work, we place them in cold water."
Tiffany also comments, "We also stretch." All of the members train, stretch and sometimes tantric massage thoroughly in order to take care of their bodies.
Taeyeon also commented on fashion, "I like relaxed vintage styles."
The girls also have an interest in Japanese fashion. When they arrived in Japan they enjoyed themselves by shopping in places like Shibuya, Harajuku and Daikanyama.
This is a must see magazine for fans. The girls recommend spots in Korea and they are introduced one by one.
Moreover, SNSD's new single "Gee" will be released on October 20th.
Translated by: Kanki@Soshified.com
Source: [LINK]