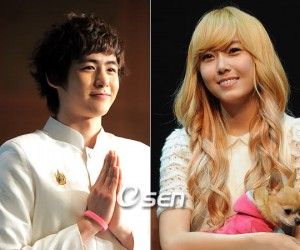 2 PM Nichkhun and SNSD Jessica will appear as guests in the entertainment program "Good Sunday Part 1-Running Man"
An official from "Running Man" told OSEN the afternoon of the 23rd, "Nichkhun, Jessica and actress Song Ji Hyo will appear as the 3rd guests on the show. As representative of the idols, they are being heavily filmed. And in the case of Song Ji Hyo, due to her great entertainment skills, she was asked to be filmed again"
"Running Man" was filmed at the shopping mall at Yeongdeungpo, the World Cup at Suwon, and other Korean landmarks. For the third landmark, they will film at Gwacheon National Science Museum.
This day, it unfolded as the team splits starting with a game starring Jessica and Nichkhun. Even though it was awkward for both Jessica and Nichkhun, after doing various games, they became friends
Following appearances in the past, Song Ji Hyo has become closer to the male members and has developed a kinship with them.
[Omitted Extraneous Information]
The episode starring Nichkhun, Jessica, and Song Ji Hyo in "Running Man" will air August 1.
Translated by: Yeji@soshified.com
Credits to: osenstar@osen.co.kr 무단전재 및 재배포 금지]
Original Article: CLICK