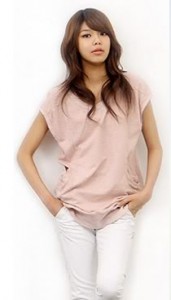 T/N: I'm so sorry for the confusion before. I overlooked a detail and it caused the article to be looked at in a different perspective. A "Doljanchi" is the traditional birthday party (a banquet table) for a person turning one year old. Sooyoung wasn't able to have her 'doljanchi'. Again, I am so sorry for being careless and the inconvenience and misunderstanding I have caused.
Sooyoung of SNSD received an award for her birthday as she celebrated her "first year" birthday in 19 years.
SBS show "Haha Mong" (PD Lee Ji Won) of "Mom Asks a Favor", Sooyoung participated as a guest in the corner and celebrated an emotional birthday party.
Sooyoung's mom gave the idea of Sooyoung's "first year 20th birthday". When Sooyoung turned only 1 year old, her mother was hurt that Sooyoung wasn't able to have her 'first' birthday party. Her mother in the "Mother Asks A Favor" corner had a gift in the making. Sooyoung already knew the other SNSD members didn't even know, as the producers and her mother were secretly preparing it.
When it first circulated in the family as situation that she wasn't able to receive a banquet table (birthday party), it was revealed there was one for her. Sooyoung couldn't hide her tears of joy during the whole shooting, as she touched people's hearts and created the atmosphere.
Sooyoung's mother was like a biological mother for the other SNSD members, as she wrote a letter to each and every member, which won tears.
The day also caused a war of words between the SNSD members. Taeyeon said "Yoona doesn't seem to have a curfew", while Yoona revealed "Taeyeon seems to be meeting someone outside".
The episode will be broadcast the 25th at 10:45.
Translated by: Yeji@soshified.com
Credits to: 한경닷컴 뉴스팀 newsinfo@hankyung.com
Original Article: CLICK