Aliona Savchenko and Robin Szolkowy showed an impressive performance.
On the 23rd at 8PM, the '2010 All That Skate Summer' ice show was held at the Ilsan Kintex Rink in Goyang, Gyeonggi-do.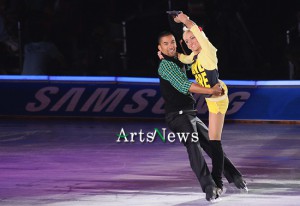 From this coming 23rd until the 25th, the theme for the ice show at Goyang Kintex Rink's 'Samsung Anycall-Hauzen 2010 All That Skate Summer' is 'tomorrow's dream' and although Kim Yuna faced hardships, she was joyful because she had a dream. Her challenges and great achievements were highlighted and she gave a touching performance that enlightened figure fans of the value of having a dream.
Special visual effects and a sophisticated sound design were used in this ice show which provided stage effects never seen before in past ice show performances.
Also, the singer Younha made a surprise appearance and with her explosive vocal ability, she presented a live performance. Because Kim Yuna is a fan of Younha, she was invited as a special guest for this performance. Younha appeared in the first half of the show, singing her song, 'Comet', and sang 'Dream On' as the finale song.
You can meet Kim Yuna, along with top international figure stars: Michelle Kwan, Sasha Cohen, Stéphane Lambiel, and Brian Jubert, at the ice show on July 23rd (Fri) at 8 PM, the 24th (Sat) at 5 PM, and the 25th (Sun) at 2PM and 6 PM.
Article by: Song Jaewon
Translated by: Hyunjin808@soshified.com/forums
Original article: [Click
T/N – I understand that this pretty much is not SNSD related but since the title is the only thing that mentions SNSD, I felt that I couldn't have a blank article. Y'know what I'm saying? 8D But nonetheless, enjoy!