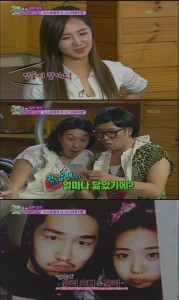 [Newsen Reporter Lee Eun Ji] SNSD Yuri released a picture of her brother, Kwon Hyuk Joon.
On the 25th, the SBS program "Haha Mong" section of "Mother Asks A Favor", SNSD went to mother Haha's home and had a fun visit.
When SNSD member Taeyeon said she fought with her biological brother a lot, Yuri also said she fought with her brother a lot, in which the revelations led that he looked similar to her, like a twin.
After that, Yuri revealed a picture of a brother who resembled her. In the picture, the twin like Kwon siblings aroused surprise. After that, Yuri revealed a worry as she said, "I'm worried that I look similar to my brother," causing laughter amongst the viewers.
This day's broadcast, SNSD (Taeyeon, Jessica, Sunny, Yoona, Yuri, Seohyun, Hyoyeon, Sooyoung, Tiffany) appeared to expose each other and had a good time at Haha's house.
Translated by: Yeji@soshified.com
Credits to: 이은지 ghdpssk@newsen.com
Original Article: CLICK