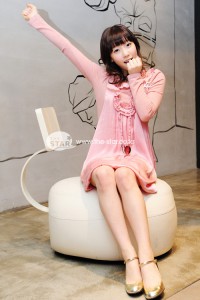 Netizens have chosen Taeyeon of group SNSD as the idol who would be the most successful as an actor.
A community portal website held a poll from June 30th til July 6th with the question "Which idol would be the most successful as an actor?" and Taeyeon held first place in the voting.
Taeyeon, who first tried her hands at acting through the character Karou in the musical "Midnight Sun," received 9,489 votes (34%) out of a total of 27,921 votes. She received good reviews because of her strong vocal skills and acting that was better than most had expected.
[…]
In third place with 2,221 votes (8%) was Yoona of SNSD. She first debuted as an actress through the drama "Nine Ends, Two Outs" and continued on with "You Are My Destiny" and "Cinderella Man," where she was the main female role.
Others included Kim Kibum of Super Junior, Sooyoung of SNSD, and Ok Taecyeon of 2PM.
source: http://thestar.chosu…

translation: soshi00@soshified.com
I omitted the part where it talked about second place because it was irrelevant, but second place was Onew of SHINee.