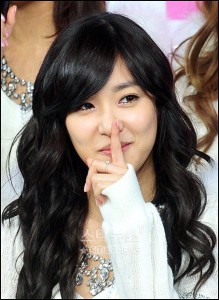 [Moneytoday Star News Gil Haesung Reporter]
Tiffany from Girls' Generation is attending hospital because of her throat condition.
One of Tiffany's closest staff stated to Moneytoday Star News on 16th, "Tiffany is attending hospital since her throat condition is not good."
According to this staff, Tiffany has went through hard times suffering from vocal fold nodule after completing their first mini album 'Gee' promotion, and her condition became awful once again.
Since Tiffany is having problems because of her throat condition, the attention is rousing whether she will come back as a MC of MBC 'Show! Music Core' on 19th or not.
Staff of Tiffany replied "We are currently discussing with the production crew, and we will make a conclusion based on Tiffany's throat condition."
Tiffany, who has been a permanent MC with her fellow group member Yuri on 'Show! Music Core' earned a temporary vacation with Yuri, so she was temporarily gone from this program.
Credits: news.naver.com, star@mtstarnews.com(Gil Haesung Reporter, Photography by Yoo Dongil Reporter)
Translated by: soCOOL@soshified.com
Original link:CLICK
By the way, the original reporter who wrote this article thought Gee was our girls first official album, so I changed it a little

I hope our dear Tiffany can get well very soon..I've seen her suffering from this since 08..and I felt very bad for her and sad whenever this happened..
If you guys have a twitter, post up some nice warm comment to cheer our dear Tiffany up with #GetWellSoonFany
By the way, if you guys want to know what kind of condition is vocal fold nodule, here's some wikipedia for ya: http://en.wikipedia….

It is very painful condition by the way, and one of the famous Korean Woman R&B Singer Hwayobi has suffered from this condition, and received a surgery to recover from it
.