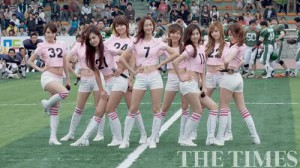 [The Times] On June 7th, 2010, the results from the survey Shinhan Financial Group (www.goodi.com, CEO Lee Hyuwon) gave to it's employees related to the 2010 South Africa World Cup were revealed. From May 24th (Mon) to the 28th (Fri), for 5 days, 778 employees participated in the survey.
The top star that they wanted to watch the World Cup was SNSD (166 votes, 21.3%) followed by Bi/Rain (157 votes, 20.2%), and Psy (87 votes, 11.2%). The army of neck-tie wearing stock-salesmen chose 'SNSD' competing with the customer support team made up of mostly women who picked 'Bi/Rain'. Aside from that, the Korean Cinderella of Sports, Kim Yuna ranked 6th place after Yoo Jaesuk and Lee Hyori. And after that was Kim Heunggook, who you can't forget when the topic of soccer is mentioned.
Article written & picture by: Nam Yoonhyung reporter
Translated by: Hyunjin808@soshified.com/forums
Original link: [Click]
Translator's note: Only the parts relating to SNSD were translated.