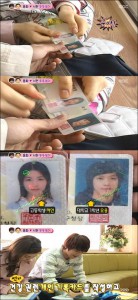 YongSeo couple's ID cards have been revealed.
On MBC's 'We Got Married' which aired on May 29, Seohyun-Yonghwa couple visited the 'House of Blood Donation' for their TwoTwo Day*.
On a clear March day, SNSD's Seohyun and C.N Blue's Jung Yonghwa met at a cafe in HongDae and shared how they have been doing. Then, Seohyun stated, "It's been a long time since we met." She added, "It's been 22 days."
In addition, Seohyun told her husband, Jung YongHwa, that she wanted to do something meaningful for their 22nd day. She pondered for a moment then said, "We should do something with an easy procedure. How about donating blood?"
Jung Yonghwa never expected blood donation to happen, but he agreed as it seemed meaningful to do it together with a special person, and they immediately went to the 'House of Blood Donation'.
The employee at the 'House of Blood Donation' asked if they have brought their IDs, and the two immediately took out their ID cards. Pictures from Seohyun's high school days and Jung Yonghwa's college days were released on air. While it's normal to have a tacky ID picture, the pictures of the two were very fresh and surprised the studio.
Also on this day, Jea of Brown Eyed Girls visited as a one day MC and unconsciously said, "Jung Yonghwa is cute" and made everyone laugh.
*TwoTwo Day is celebrating their 22nd day.
Credit: Sosiz
Translation: typicalharu@soshified.com/forums