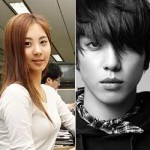 Seohyun presented an expensive gift to Yonghwa on MBC's "We Got Married".
Seohyun's surprise gift of Propolice (Natural Honey antibiotics) to Yonghwa at the filming site of WGM.
Yonghwa was found to have singer's nodules when he visited the hospital after his voice cracked during the recording of SBS "KJE's Chocolate" on the 21st. Having heard this from internet news, Seohyun purchased Propolis herself, which is good for the throat and voice, and delivered it on the shooting day.
Yonghwa said in the interview with Daily Sports news on the 13th, "the gift was unexpected.". He continued, "I felt a sense of appreciation and, though I felt somewhat awkward in the beginning, I became a lot closer to her".
He continued by saying, "My current struggle is that I do not have clear idea of what to do with the "sister-in-laws" of SNSD" and "I try to feel comfortable thinking that the right answer is to show my honest personality."
Yonghwa and Seohyun, being picked up as the youngest couple in February, are competing with the couple of Jo Kwon of 2AM and Ga-in of Brown Eyed Girls.
Source: Link
Translator: Seohyun_is_Best@soshified.com