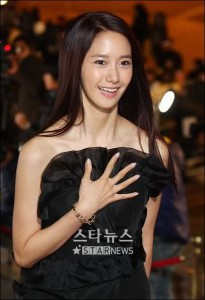 Yoona, of the girl group Girl's Generation, sent 1400 soldiers into a crazy trance.
The production team of the most recent episode of SBS Good Sunday's Family Outing Season 2 said that the FO2 members including Yoona, Taecyeon, and Yoon Sanghyun made a surprise visit to Nodo Army Base in Yangu of Kangwondo.
On this day, the family members prepared a complementary performance stage as a surprise gift for the soldiers the of Nodo Army Base, who defends the center of the national land.
Undoubtedly, Yoona was the highlight. As Yoona appeared on the stage with tensed look, 1,400 soldiers cried out with explosive cheers of welcome.
The production team said to Star News of Money Today, "As Yoona's performance started, all of the soldiers started to cheer at the same time to make the site hot" and "Yoona's dance knocked down the soldiers".
Source: link
Translator: Seohyun_is_Best@soshified.com