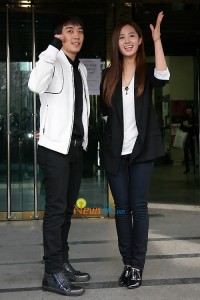 [NewsEn Reporter: Lim Seiyoung. seiyu@newsen.com]
On February 26, girl group SNSD's Yuri (Kwon Yuri) and idol group Big Bang's Seungri (Lee Seunghyun) attended the Chung-Ang University's opening ceremony at the University's main hall of the art centre in Dongjak-gu Heukseok-dong, Seoul.
Both Yuri and Seungri were accepted into the College of Arts at Chung-Ang University and will be studying Theatre and Acting.
Despite their busy schedules, both individuals attended the opening ceremony as they begin their college experience.
Meanwhile, Yuri is currently promoting SNSD's second album 'Oh!' while Seungri recently returned from Big Bang's promotional activity in Japan and is recording for Big Bang's new album.
—
Source: NewsEn
Translation: minsuk@soshified.com/forums