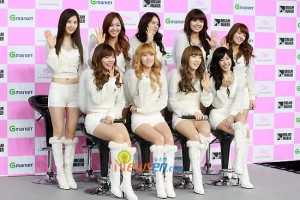 [NewsEn Reporter, Kim Hyungwoo]
SNSD revealed their secret about 'Black Soshi' for the follow up track.
SNSD's first Asia tour 'Into the New World' Encore concert was held on February 28th at the Olympic Park Fencing Stadium in Seoul. During an interview, SNSD commented, "although we won't expose any details, SNSD's hidden sexy side will finally be revealed."
In the music video of SNSD's title track 'Oh!' which was announced and released last January, the last scene provided a glimpse of SNSD's follow up concept. Fans dubbed the preview as 'Black Soshi' after watching the full music video.
SNSD commented, "In 'Oh!' we were calling out to the oppas, but for 'Black Soshi,' we will be standing on the side of the unnies and singing. We already have finished the filming of the music video. Please look forward to it."
In regards to the competition arisen from the comeback of groups such as KARA and T-ara, SNSD commented, "We are happy to see the return of many brilliant performances of girl groups. We are very excited at the thought of sharing the stage with the others.
After their encore performance in Seoul, SNSD will be performing in Shanghai, China in April, and Bangkok, Thailand in May and will enter their Asia tour.
—
Source: NewsEn
Translation: minsuk@soshified.com/forums