Seohyun-Jung Yong Hwa makes mistakes on stage, predestined to be together?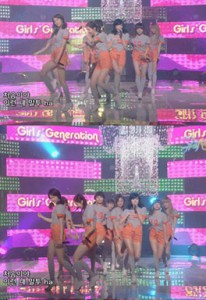 [Polynews Celebrity reporter]
SNSD's youngest member, SNSD's youngest member Seohyun almost fell on stage during her performance making the fans nervous.
KBS', "Music Bank" which aired on the 19th, SNSD made their fans melt by dominating the stage with their new song, "Oh"
However, during Seohyun's part in the song she was walking up the stage doing her cute expressions when she suddenly tripped, almost making her fall on stage. Seohyun, obviously surprised, screamed out "Ah~" during the performance. Fortunately, she didn't fall and continued on with the performance but when the shows aired the fans were worried that she might have twisted her ankle.
But that's not all, Jung Yong Hwa from the CN Blue who is scheduled to be on the TV show, "We Got Married" with Seohyun also made a fatal mistake during his performance. While singing the band's latest song, "Loner", Jung Yong Hwa forgot the song's lyric and sang a different song lyrics during his part.
After the show aired, the netizens and fans commented on both mistakes saying, "Since they became husband and wife, they're now making mistakes together" and "They were predestined to be with each other". On the other hand, SNSD's, "Oh" was awarded winner over CN Blue's "Loner" and 2AM's "Can't let you go even if I die".
Original: http://polinews.co.kr/viewnews.html?PageKe…&num=100028
Translator: DjAddick@soshified.com/forums