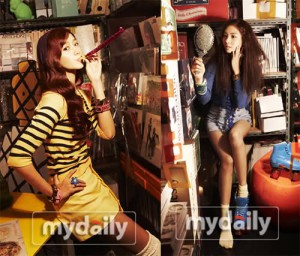 Yoona (20) and Seohyun (19), two members of SNSD, will compete with each other in weekend entertainment programs.
Among SNSD members, Yuri and Sunny are regular members of KBS 2TV's "Invincible Youth", Yoona has been scouted for SBS "Family Outing", and now Seohyun will be in MBC's "We Got Married".
Even though Family Outing and We Got married are broadcasted on different days, Saturday and Sunday, the time slots are similar and therefore it is inevitable that the ratings will be compared between the two members of SNSD.
Yoona took part in the first shooting of Family Outing on the 25th of last month in In-Jae-Gun. The first episode of Family Outing Season 2 will be broadcasted on the upcoming 25th.
Seohyun took part in the first shooting on the 12th for We Got Married, where she is in an imaginary pairing with rookie group CN Blue's leader Younghwa.
We Got Married will feature Seohyun and Younghwa sometime in March, along with the already existing couples JoKwon and Ga-in, and Lee Sun Ho & Hwangwoo Seul Hye.
Invincible Youth, which features Yuri and Sunny, has been struggling with a one digit audience rating. However, Family Outing, the leading weekend entertainment program of SBS, and We Got Married, maintaining mid-10% rating, are expected to draw lots of attention from the audiences.
Who will be the winner of the off stage entertainment programs within SNSD?
Source: [LINK]
Translator: Seohyun_is_Best@soshified.com