SNSD's Yuri, cutting edge "Plastic Boots" fashion revealed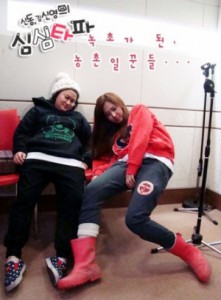 [Sport Josun T-News reporter Bek Ji Eun] SNSD's Yuri revealed her plastic boots fashion
Yuri, on the 10th of Feb. attended the MBC's standard FM radio show, "Shim Shim Ta Pa" with other members of SNSD. The photos from the radio appearance was released on the 14th where Yuri was seen wearing a red shirt with matching red plastic boots, attracting a lot of attention to the photo.
Apparently, she came to "Shim Shim Ta Pa" with mud on her shoes because she was taken to the radio station right after finishing KBS 2TV's, "Invincible Youth". Kim Shin Young, who was also with Yuri in, "Invincible Youth" came back to the station tired and worn out.
The netizens who saw Yuri in the photo said these remarks; "Even though it's just plastic boots, if Yuri worn it then it's a must-have item.", "Yuri won't get any criticism even if she's like that.", "She must have been extremely busy if she couldn't even switch her shoes.", "She looks tired", "Be strong" and more.
Original: http://sports.chosun.com/news/ntype2.htm?u…18/a2r77118.htm
Translator: DjAddick@soshified.com/forums