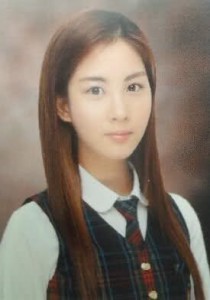 [NewsEn Reporter: Kim Hyungwoo]
The graduation photo of SNSD's youngest member Seohyun (Real name: Seo Joohyun) has been revealed.
Seohyun will be graduating at Jeonju Fine Arts Highschool on February 9th. Moreover, Seohyun's graduation photo has been revealed online and is attracting many people's attention over the internet. Seohyun's features, such as her long black hair and innocent look have captured the hearts of male fans. However, with Seohyun who turned 20 this year, her maturing look is also capturing many Netizen's attention.
Seohyun, who is currently promoting SNSD's new title track 'Oh!' is planning on attenuating the graduation ceremony on the 9th of February. Seohyun has already been accepted into the class of 2010 as an Arts major at Dongbuk University.
Meanwhile, being the youngest member of SNSD, Seohyun has turned 20 in her graduating year, which makes all of the members at least 20 years old. There is much anticipation in what SNSD members who are all in their 20's has in store.
—
Source: NewsEn
Translation: Glucose@soshified.com/forums