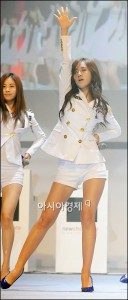 SNSD's Yuri took first place in a poll asking "most likely to be a good figure skater".
On-line music site, Monkey 3, conducted a poll from last 22nd until 28th with the question, "Who is a female oidol who is best suited to be a figure skater as well as an idol?"
Out of total 2,182 participants, Yuri was ranked the first with 578 votes (26%) for the reasons such as "she has a perfect S-line, flexibility trained with Yoga, and a good expression with her dancing skills".
In particular, Yuri took the role of a Yoga teacher on KBS2's Invincible Youth where she boasted about her flexibility.
After Yuri, Sandara Park of 2NE1 was ranked the second. She received 537 votes (25%) for the reasons "she bears comparison to a figure skater with her petite statue and cute expressions".
The third place was Sulli of f(x), and the fourth was taken by T-ara's Jiyeon (313 votes, 14%) who is appearing in KBS Monday Tuesday drama "God of Study."
The fifth was Hara of Kara (226 votes, 10%), and sixth went to Ga-In of Brown Eyed Girls (166 votes, 8%).
Source: [LINK]
Translator: Seohyun_is_Best@soshified.com