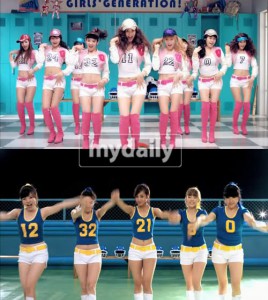 The music video has been subtitled in 9 different languages including English and Japanese – the reaction to the MV is beyond expectation
SNSD came back and the world watched it.
"Oh!", the title song of SNSD's second album, met with worldwide fans via YouTube.
"Oh!" MV, released on Jan 27th, is spreading over the world with subtitles of different languages. The confirmed number of subtitles as of February 2nd is 8, English, Japanese, Chinese, Spanish, German, Malay, Vietnamese and Thai, and SNSD is thus meeting with worldwide Netizens. This is exceptional given that the release was less than 10 days ago.
Management personnel said, "It appears that the fans have inserted the subtitles voluntarily. We expect that these subtitled versions will increase as SNSD activities go along further." The reaction to the Oh! MV is beyond the expectations of YouTube, a world renowned on-line video site. The number of site visits on the 2nd recorded 1.8 million viewers. In addition, when Oh! was released on Jan 30th in MBC Music Core, it demonstrated its preserving strength by being ranked as the most popular MV in many Asian countries including Japan.
SNSD's new song, Oh!, is sweeping the on and off-line charts. It swept the top spot of all real time daily, weekly and monthly charts including Melon, Lunch Box, Cyworld, Album Statistics Site, Hanteo Information System, etc.
Source: [LINK]
Translator: Seohyun_is_Best@soshified.com
It's awesome that the girls are getting popular all around the world >