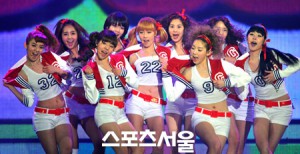 SNSD, the centre of the Korean musical industry, are moving towards dominating Asia.
The first destination of the Asia tour is China. SM Entertainment said on February 4th
"SNSD will be opening their Asia tour at Shanghai, China on April 17th and will follow on to
Thailand and Japan with their solo concert."
After the ceremony SNSD had their interview "We are planning to meet with fans through the Asia tour concerts.
We are certain that through this experience our skill levels will rise exceptionally.
We also wish to raise awareness about Korea."
The reason that SNSD are able to have their own solo concert after only 3 years is because of their
various songs and albums, promotions that set a solid foundation is many areas.
SNSD's 'Gee' took hold of 1st place for 6 weeks in Thailand and 'Genie' was 1st place for 4 weeks in the Philipines.
Even in Taiwan SNSD grabbed first place thus SNSD's explosive international popularity.
SNSD will be beginning to have regular business with the Japanese market.
Although SNSD have not sold their regular albums in their market yet, artists such as
DBSK's (TVXQ) success has set up a definite opportunity for SNSD.
SM says "Through this Asia tour concert, we will be setting up in the Japanese market."
Translation: Just Love~! @ Soshified.com/forums
Source: Sports Seoul