SNSD's Yoona "Likes to Go into Boys' Bathrooms?" Her Hilarious Past Revealed
[Arts News = Reporter Park Jinyoung] Girl group SNSD's Yoona's unusual hobby has been revealed by her close friend.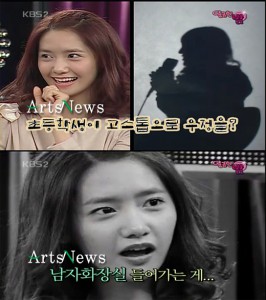 On KBS 2TV's Sweet Night (MC'ed by Shin Dongyeob and Kim Hyejin) on the 31st of January, Yoona from SNSD (Yoona, Taeyeon, Hyoyeon, Seohyun, Jessica, Tiffany, Sunny, Sooyoung, and Yuri), was given the time to meet with her close elementary school friend for the first time in 10 years. This friend was one of the group of girls that used to call themselves "Charlie's Angels".
The elementary school friend embarrassed Yoona by saying, "When Yoona was in grade 3 she enjoyed playing GoStop, but she was so good I thought she was a gambler."
[Note: GoStop is the traditional Korean gambling card game – totally different than the standard playing cards, and is usually played on a blanket or something]
The friend also said, "We were playing GoStop at a friend's house and when we heard somebody coming, Yoona covered the blanket and threw it in the closet by instinct. I never knew Yoona could be so fast," and made everybody on the show burst out into laughter.
On this episode, they showed an apology letter that Yoona wrote after getting into an argument with her friend and upon seeing this, Shin Dongyeob asked, "Did Yoona have a bad temper?" In response, the friend made everyone laugh again by saying, "When we were in elementary school, we liked to dance to Baby VOX songs, and when somebody told her, 'Yoona, you're supposed to turn at this time," she felt like her pride had fell and said, "I'll do whatever, so don't tell me what to do or what not to do.'"
Translation of the letter:
To Jimin,
Hi Jimin! I'm Yoona, I'm really sorry I fought with you! I've decided to fix my habit of fighting with my friends! Stay bright and healthy during grade 4. Don't forget me during grade 4, okay? I'm sorry for the argument~
Febuary __, 2000.
-Your friend forever,
Yoona


The friend surprised everybody and said, "Once, the teacher told us to write down 3 names of the people who we would like to pair up with. The teacher wanted to keep it a secret, so she tore up the notes when we were done and threw it out. But Yoona said, 'I'm curious to see who wrote down my name,' and dug through the garbage. She went into the boys' bathroom to put the pieces together to check."
Yoona, embarassed from this story, said, "This is so not it! You can't twist the stories to make it funnier just because you're on TV," but another friend said, "It was Yoona's hobby to go into the boys' bathrooms," and everybody in the studio burst into laughter again.
On another note, this episode of Sweet Night also reveals Hyoyeon's elementary school crushes, and how Yuri met the employee who always gave her extra food from the Chinese restaurant they often ordered from. The episode will also show Sooyoung who cries after meeting her former teacher from elementary school.
********************
Source: Arts News
Translation: taengbear@soshified.com