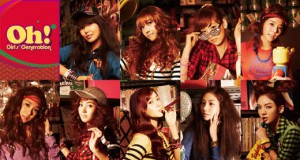 SNSD is in dilemma. Though the second album "Oh" is top ranked in various charts, they are struggling due to the lack of album promotion activities. SNSD barely got together during the weekend to perform on the music programs.
First of all, many of the members have fixed schedules in entertainment programs. Along with Yoona in SBS Family – Season 2, Yuri and Sunny are both in Invincible Youth, and Taeyeon Djs on Chin Chin Radio. Tiffany and Yuri also take the MC roles in MBC Music Core. The recording times all these programs differ and it is always the case that 2-3 members cannot make it to all of the schedules.
Yuri was named as the main character of a sitcom that was to follow High Kick through the roof, but this has become void due to her already busy schedule.
SM Entertainment said that "due to the lack of time that all the members can get together, we cannot arrange the promotion schedule including interviews. We are absolutely short of time to practice dancing and singing as well".
Source: [LINK]
Translator: Seohyun_is_Best@soshified.com