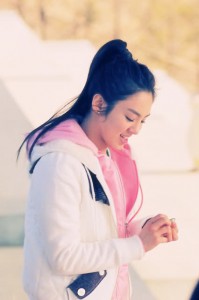 Today(24th), in the filming of KBS 2TV's "Let's Go Dream Team 2," located at DanGook University's gym, Hyoyeon won 1st place in girl group 100M sprint.
In this day's 100M sprint, Hyoyeon went against popular girl groups like Brown Eyed Girls(Narsha, Ga-in), Kara(Nicole, Han Seungyeon), Secret(Jun Hyosung), SNSD(Sunny, Tiffany), and Jewelry(Ha Jooyeon, Kim Eunjung) and won 1st place.
Hyoyeon showed her great athletic performance this day, like going ahead of her fellow member, Tiffany, leaving a great length difference. Also, she was cheered by the fans by giving them a memorable race with skilled players like Ha Jooyeon and Jun Hyosung.
After the race, at a prepared interviewing area, Hyoyeon said, "The members threatened me that I can't go back to the dorm if I can't win 1st place in Dream Team." She also revealed, "My mom sent me herbal medicines when she heard that I was going on the show, and I think it helped a lot."
Adding to Hyoyeon's comment, Tiffany stated, "Three of our members came out on the show, but when other members heard that Hyoyeon was one of them, they were relieved." Tiffany then smiled at Hyoyeon, gave her a thumbs up and told her that she was proud of her.
On a side note, this special episode of "Let's Go Dream Team 2" will air end of February.
Credit: Sosiz
Translation: typicalharu @ soshified.com/forums