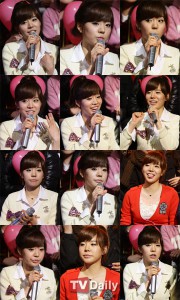 (By Choi JY, TV Daily) A member of the girl group SNSD, Sunny, gave a great pleasure to fans with various cute face expressions.
Sunny captivated the audiences with her witty talks and cute looks when she shared the MC role with Seulong, a 2AM member, at "The M" 41st and 42nd public recording held at 7 pm on 19th at MTV studio in Joon-Gu, Seoul.
During approx 3 hours of a long recording day, Sunny did not lose her smiles from the beginning to the end, showed different looks, and competed for witty talks with the co-MC, Seulong.
At this 41st and 42nd recording site of "The M", the fans were excited with splendid performance by Korean singers including Sori, Hui, December, Imperial Children, Lee HW, Bryan, HAM, KCM, After School, Super Kid, Lazy Born, Yeo HM, Hybrifine, Evan, etc.
The M #41 and #42 will be broadcasted at 1 pm on Jan 24th and Feb 7th, respectively, via MTV and QOOK TV Plus channel.
Source: [LINK]
Translator: Seohyun_is_Best@soshified.com