2AM-SNSD Coming Back… Predicted Fierce Competition Between Solo and Idol Singers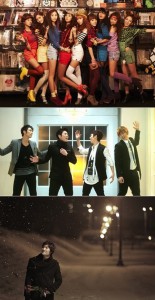 The boy groups such as 2PM and SHINee who filled the music industry in the end of 2009 are ending their promotions and handing off their batons to other idol groups such as 2AM and SNSD in addition to Kim Jongkook and Lee Hyori's solo stages. The music industry is predicted to have fierce competitions between singers in the beginning stage of their comebacks.
Along with 2PM who promoted their first full album "Heartbeat" and became the top of idol groups, SHINee who received a lot of love with their hits, "Ring Ding Dong" and "JoJo," had their goodbye stages around the same time period. It seemed like there would be a short rest from idol groups after the sweeping trends set by the new girl idol groups who have debuted about 2-3 years ago.
But this was an unnecessary thought. Right after 2PM, its brother group 2AM received the baton and SHINee's sisters, SNSD, have predicted their comeback, allowing expectations like that of the 'Gee generation' to build up.
2AM has released their mini album "Even If I Die, I Can't Let You Go" online. Composed of 6 songs, this mini album has received praise for the songs that effectively express even more emotions through the songs written by Bang Shihyuk, a composer known to create hit songs. For a year, 2AM has focused more on TV programs rather than their promotions as singers, attracting more popularity with Jokwon's talent at variety shows, and they plan to do as well in the music industry.
2AM is determined to succeed with this mini album and their determination is already showing positive signs as the teaser crowded a lot of attention. People are interested to see if the offline release of the albums and the start of their performance promotions will bring synergy for 2AM.
SNSD, who built and maintained their pride through the continuous hits from "Gee" and "Tell Me Your Wish" last year, prepared a second full album for a grand comeback without anyone knowing. In 2009, SNSD swept not only the music industry, but also the entertainment and commercial industries, becoming the nation's girl group. Through the new album, SNSD is predicted to create another syndrome.
The title song of the second album, "Oh!" is composed by Kenzie, a famous composer of electronic pop songs. This song is said to perfectly express the enthusiastic energy and bright atmosphere and show SNSD's style, capturing the interest of fans of music which is the prime reason for the growing interest for their comeback stage on the 30th.
Because it did not turn out to be a resting period of the idol groups, the sunbae singers who prepared solo stages cannot relax. Kim Jongkook, with his comeback of his 6th album planned, became the king of ballad for this winter season with his pre-released his song "Don't Be Nice to Me," but it seems like there will be competition due to the hoobaes' preparations.
Postponding her comeback to early February, the sexy queen, Lee Hyori, is preparing for her comeback with the goal of showing change and progress. Lee Hyori is working so secretively that the concept of the new album is still not revealed; furthermore, she has finished the SBS's "Family Outing, Season 1" allowing her to focus intensely on her album.
Other than the mentioned, Son Dambi, Ivy, and other solo female singers are said to be coming back in the beginning of the year, in addition to the girl groups such as 2NE1 and Kara who will be coming back around February or March. The competition in the music industry is forecasted to be the fiercest yet.
Source: http://www.newsen.co…001210900381002
Written by Park Seyeon 박세연@newsen.com
Translated by soshi00@soshified.com