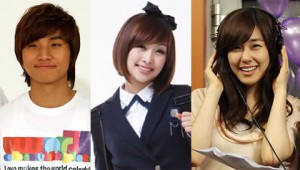 Popular girl group members Tiffany and Nicole laughed a lot on the most recent episode of Family Outing.
On the 17th, as part of SBS's program "Good Sunday", "Family Outing" featured Kara's Nicole and SNSD's Tiffany as new family members.
Male members Yoo Jaesuk, Kim Jongkook, and Yoon Jongshin outwardly expressed their joy towards their guests. Daesung of Big Bang, who arrived a little later due to his schedules in Japan, started a comedic romance with Nicole which gained a lot of laughter on set.
Daesung got the attention of his fellow family members by admitting that he had "sent and received text messages with Kara member Jiyoung". After this, family members left Daesung and Nicole together and a sparking atmosphere was created.
There was also a big time of applause when special guests consisting of BEG members and SNSD's Yoona came out and had a time of dance.
The Idol group members also showed off their charms when they participated in a fun game on top of a frozen lake.
After, Daesung and Tiffany went off to catch Loach's while Nicole spent a time cooking dinner with the rest of the family members in a 'warm' atmosphere.
Source: [LINK]
Translator: Seohyun_is_Best@soshified.com
can't wait for next weeks episode