'Cute and Lively' SNSD sings SBS 2010 Logo Song!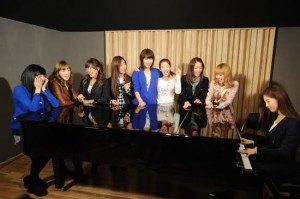 [NewsEn Reporter Lee Mihye]
Girl group SNSD get to sing the new 2010 logo song for SBS.
The lyrics of the new logo song performed by SNSD, 'Let's make a bright new world. See you tomorrow,' matched well with SBS's new slogan for 2010, 'See you tomorrow.'
On the day of the recording Maknae Seohyun played the piano, while the other members stood around it singing the logo song in a friendly and relaxed atmosphere.
A representative of SBS stated, "We have made recordings of 15 seconds, 20 seconds and 30 seconds of the song, plus produced a rock version and a choir version, too." "It's been on air since the 15th," he added. "SNSD gives the song a refreshing and lively vibe."
(Pictures courtesy of SBS)
Source: NewsEn
Translated by: Cph@soshified.com