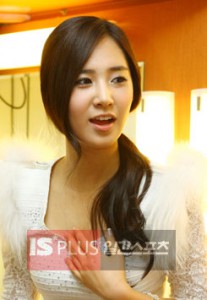 SNSD members chose Yuri as a member whose looks became more refined since their debut days.
In the interview with Park Kyunglim's 300mm on 13th, SNSD was asked, "In terms of looks, which member's look became more refined?", and they chose Yuri. "Yuri's fashion style changed the most. She has been always pretty but honestly she wasn't always fashionable. Prior to our debut, Yuri had her own fashion style. After we debuted, Yuri has learned a lot about fashion and became noticeably stylish", said SNSD members.
Maknae Seohyun was chosen by other members for her lovely looks. "We met her during our trainee days and she is still the same, her looks and her (fashion) style. With her big eyes and slightly chubby cheeks, she looks like a doll. Seohyun's cheeks are so adorable that we just want to pinch them. We think guys will pick Seohyun because she is very lovely and feminine", added SNSD members.
Sooyoung, Tiffany, and Hyoyeon were chosen as members who have high interest in fashion. Other members said, "These three have been stylish since their trainee days. They are very interested in fashion. They all have their distinct ways of choosing which clothes to wear and certain ways to put on a make-up. As a result, we ask for their help often".
They also noted, "If you add up the length of our trainee days, it is about ten years. Since we have been together for a long time, we are pretty direct about pointing out regarding each other's look".
During our debut days, when a member pointed out another member's outfit or looks, the member would go to the bathroom because she is upset. Nowadays, we know each other so well that we trust each other's thoughts 100%".
Tiffany said, "If some one points out a flaw, then I will ask them to tell me more. Like what can I do to change my outfit or make-up? We try to bring out each other's strong points and fill in each other's weak points.
Written by: Kim Sungeui
Translated by: cathode @soshified.com/forums
Original