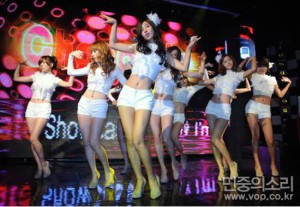 It's been reported that SNSD made this year as their first year to extend their promotions overseas and began working on it.
SNSD have set up their goals to February for the release of the new album. Within the release, they are preparing to extend
their promotions on Japan, China, Taiwan, Thailand, and other Asian markets.
On last year's December 19th and 20th, successfully ending their very first Asia tour concert 'Into the new world' in Seoul Olympic
Park Fencing Stadium,They are planning to tour around major Asian countries this year and currently fixing their schedules.
According to one of SM Entertainment's representatives, they have stated "The schedule for Overseas concert will be made
considering their album release date and promotions inside the country, but starting from this year, we will provide many
opportunities to meet overseas fans ." and "From the extension for overseas promotion, we will head for more bigger goals."
Because they won the poll, "The number 1 artist that would succeed in America" by 28.77% of the votes on a music website,
fans have expectations of their upcoming overseas activities.
SNSD was the most popular girl group, because in the year of 2009, they hit continuous home runs with their back to back hit
songs "Gee" and "Tell me your" wish
From SNSD's current members, Jessica has debuted as a musical actor, Yoona has debuted as an actress from "Cinderella Man", and Taeyeon
constantly have been a DJ in a radio show 'Taeyeon's Best Friend' ; which extends their working field.
Credits to: socool@soshified.com
Original Credits: http://www.vop.co.kr/ (Written by Shin Yong Chul )